Imagine. You are an athletic, fun loving 21 year old college student. Blackbelt in Karate at age 16. Surfer, swimmer, skier. There is nothing you can't do – you feel invincible – on top of the world! You wake up one beautiful, sunny California morning and hop on your motorcycle to enjoy the wind in your face, lean your bike into the curves and feel the speed.
The next thing you remember is waking for a minute in a sterile, white room. After spending a month in a coma, over the course of days and weeks, you learn you were hit head-on by a large garbage truck. Almost every bone in your body broken.
Youth and invincibility replaced in a moment by unimaginable pain and despair. And ultimately loss of a leg.
That was Tim Hurst in 1981. This coming weekend, at age 56, Tim is running his 46th marathon in 43 states, on his quest to finish a marathon in all 50 states after turning 50.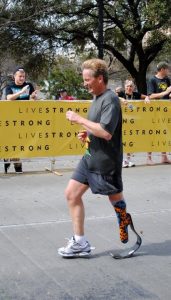 Learn more about Tim's story.