It was almost 15 years ago that I decided I needed a change. I was more than 100 pounds overweight and out of shape. A workaholic lawyer, I was more likely to stay up all night at the printer than to walk around the block. 
The Beginning
Change began slowly. Eating better. Walking. Then running. My first half marathon to celebrate turning 50. A couple of years later – a marathon.
On a plane to NYC, after finishing my third marathon, I read a story about the 50 State Marathon Club. By the time I landed in NYC, I was all in. A crazy decision designed to keep me committed to staying fit for years. 50 marathons. 50 states. All after age 50.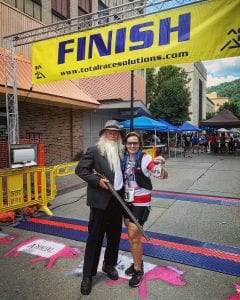 It's Here – State 50 – Boston to Big Sur
Unbelievably, at almost age 63, eleven years after running my first marathon, the crazy dream is coming true!  On April 20, 2020, I will run the Boston Marathon (State #50). And I'll take on the Boston to Big Sur challenge – the Boston Marathon on Monday and the Big Sur Marathon the following Sunday. Two hilly marathons, two coasts, six days.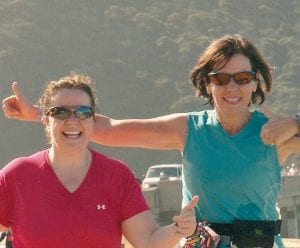 Getting to the Finish Line
The journey hasn't always been a straight path. It hasn't always been easy. I've taken time away from running for travel, triathlon and bike tours. Earlier this year, I had a small injury that got worse and sidelined me from running. Getting to the finish line of Boston and Big Sur after the injury (and the inevitable weight gain) will require a lot of dedication and hard work, but I'm up for the challenge! I'll be sharing the journey, so stay tuned!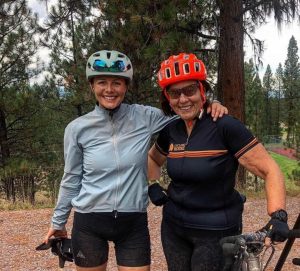 Running #50 To Help Find A Cure
On April 20, I'll join the other members of the Dana-Farber Marathon Challenge team taking to the streets to participate in the 124th Boston Marathon®.
The younger we are, the easier to think, "cancer is terrible, but it won't happen to me." But the statistics are clear. Almost 39% of us will be diagnosed with cancer during our lifetime. Mothers, fathers, grandparents, aunts, uncles, cousins, children and friends. ALL OF US, regardless of age, background, fitness, education or what we may have overcome or experienced in our lives – can hear those dreaded words – you have cancer.
Please Help
I hope you'll help fund cancer research by donating to my Boston Marathon Challenge.
One hundred percent of every dollar raised supports the Claudia Adams Barr Program in Innovative Basic Cancer Research at Dana-Farber Cancer Institute. These funds are fueling some of today's most promising basic cancer research. From Nobel prize winning researchers, to access to more than 1100 clinical trials, Dana Farber is a leader in cancer research and treatment.
Thank you for your support! I'll be matching your contributions, so please be generous!
Let's help get to the ultimate finish line: a world without cancer.