Injury Issues
2019 has been a bit of a down year exercise wise, with an injury preventing me from running for a couple of months and avoiding hills running or biking. (Pes ancerine bursitis / tendinitis, or as I say, either the bursa or the 3 tendons below the knee were awfully pissed off at me.)
And with my plan to finish a marathon in all 50 states in 2020, there was a lot of hand wringing over how to get the 50 states wrapped up, and, at the same time, over "what's next?" 
I've had a lingering desire to try gravel bike riding. When we travel out west, there are often limited places to ride on the road, but tons of Forest Service roads in beautiful settings with little traffic. And my "what's next" bucket list includes the Idaho Hot Springs route – more than 500 miles through and around the Sawtooth mountains- all on Forest Service roads.
But my sister in law was not loving her gravel bike and it spooked me. I remembered the Cycling House was hosting a gravel bike camp in September. I reached out and lucky for me, there was one slot left! So a week after getting back from Alaska, I was winging my way to Missoula for camp – to see if I could find a little gravel sunshine!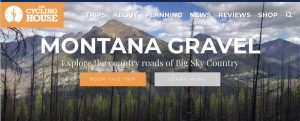 What's a Gravel Bike?
It's a road bike that is designed to be ridden on dirt and gravel – even rocks and a stick or two. It is a bit more upright, with plenty of gears to climb, disc brakes for responsive stopping power and set up to allow larger than normal tires. (Most allow you to switch between more typical road bike wheels (say 25-28) to beefier ones (37 or more).) 
Those larger tires make a huge difference in comfort and stability. Some even have a little suspension to make for an even more comfortable ride. 
Camp
The Cycling House just does it right. Every. Single. Detail. Every. Time. They have plenty of incredibly talented, friendly guides on every ride – and they are amazing people, each and every one. Those guides can help challenge the strongest riders, and still make sure the slowest riders (that would be me!) are supported. Y'all – they rinsed and dried our bikes every night! And pumped our tires every morning. They worked tirelessly from before sunrise to after sunset.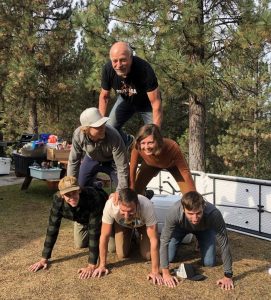 A chef created great meals for the group. Healthy. Tasty. Filling.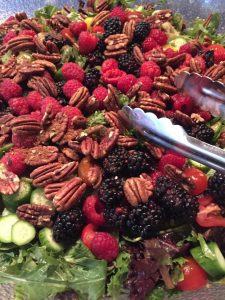 The camp was filled with incredibly fun and friendly guests (how do they find such fun people?)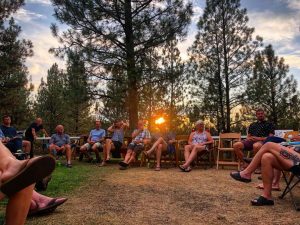 And their friends at Moots brought a supply of some of the world's best gravel bikes to ride. And of course, beer from Big Sky Brewing.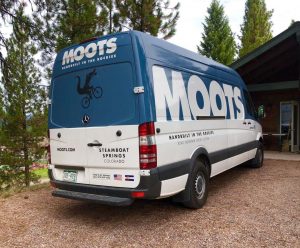 Week of Riding
Every day brought new terrain – a little single track here, a little mud there, a few rocks, and always, some champagne gravel.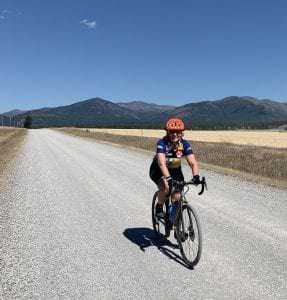 Day one was a short 20 mile ride, half on the road and half on gravel. We were pleased to learn the larger wheels didn't seem to slow us down on the roads!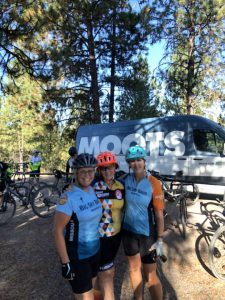 Day 3, after two days under our belts, was an epic climb that I only partially completed due to my lack of training. But Sadie, the lab, completed the whole thing! Sadie, we learned, lives near our camp and has a love of roaming. Apparently, she followed the first rider 20 miles to the top of the mountain! Thankfully, our group figured out Sadie didn't belong on the mountain and the team got her back home safe and sound!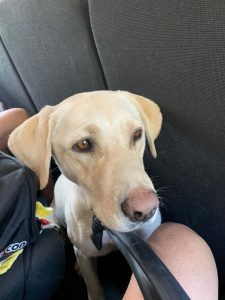 Day 4, a bit of a a break, with an overcast/rainy ride to Holland Lake. Such a pretty setting for a warm fire and lunch!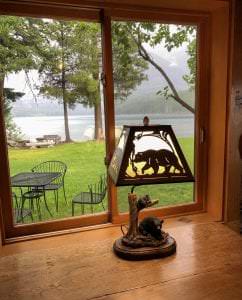 The last day, the Queen stage. For the 40 mile route, 2800 feet of climbing. For the extended route, 4100 feet of climbing and 52 miles. By then, the prior days of riding were finally having a training affect. My strength increased and I was more confident handling different terrains.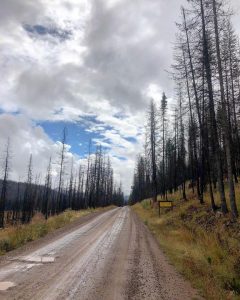 I took the 40 mile route. The first 18 miles were mostly uphill, rising more than 2200 feet. There were a few miles of rolling hills at the top, and then 15 miles of mostly flat and descending roads.
I got muddy and dirty. I felt comfortable enough on the descent to actually pass a guy! (Woohoo! That was fun! Ok, he passed me back. But still.)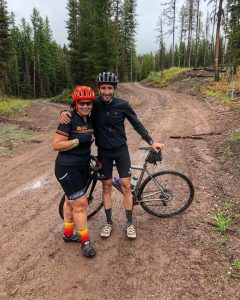 It was a BLAST!!!! So. Much. Fun!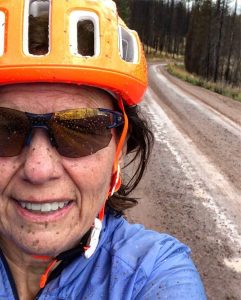 Gravel vs. Road Lessons
Every pedal stroke takes more effort – there is more "rolling" resistance in sand, dirt and gravel than on a paved road. Corollary – a gravel mile is longer than a road mile!
Gravel requires constant attention.
Little to no traffic is awesome! On gravel, cars may actually pull over so you have plenty of room or to avoid kicking mud or dust on you.

 

Wow!
You can get an upper body workout while riding. It's true – you'll be using your upper body to control the bike on harsh descents and your core to remain stable.
Picking your line is important. It pays to keep looking further up the road!
Road vibration is a thing. Riding a rocky descent, you might feel a little beat up!
Riding in nature is restorative!
Riding gravel will make you stronger, even though you are riding slower. Truth!
It's a much more stable bike! Over time, you learn these bikes will take you safely over a lot!

 
Gravel Life Lessons
Never, ever, stop trying new things!
Look for like minded souls. Whether lawyers, doctors, researchers, engineers, financiers, athletes, law enforcement or anything else, the camp was filled with people who love an adventure. Their spirit is inspiring!
Know the limits of your comfort. Go beyond them when you need a chance to grow. Stay within them when you need to gain some confidence.
Enjoy the ride!
Gravel Sunshine
In sum, the bike camp was just what I needed. By the end of the week, I felt great. I loved riding gravel. I was finally getting a bit stronger after declining or standing still from injury. And I feel better about uncovering "what's next"! A little gravel sunshine!