Welcome to week three of my 2,500 mile bike ride that I'm calling Cycling for Good. This week, I'm riding in honor of Julie Yip-Williams and her fight to find a cure for colon cancer.  You'll learn about Julie and her family, and you'll have a chance to make a difference, too.
How I Met Julie
One of the projects I worked on as Senior Advisor to The Conference Board Governance Center related to how investors and directors of public companies interact with one another. Supporting the project was a group of lawyers from Cleary Gottlieb Steen & Hamilton LLP. Cleary Gottlieb is an international law firm headquartered in New York, with more than 1,200 lawyers in offices all over the world. The firm is one of the largest, and most well regarded, law firms in the world.
Our day to day contact was Julie Yip-Williams. To become a lawyer with Cleary Gottlieb, any lawyer must be smart and have impeccable credentials. Julie filled the bill, and also brought an infectious laugh and smile and a great deal of enthusiasm for the project. Halfway through the project, Julie disappeared. The folks at Cleary, respectful of her privacy, told us nothing about why Julie was gone. We were stumped.
Then, one morning, my friend Broc Romanek at corporatecounsel.net shared a blog post from Julie about her health status. It was then that I learned what a truly amazing woman she is.
Julie's Early Life
Julie was born in Vietnam to a Chinese family, shortly after the fall of Saigon. Julie was born blind into a culture that did not value females, particularly with a disability. Julie's parents fought those cultural tides. When she was a baby, the Vietnamese government officially "invited" all people of ethnic Chinese ancestry to leave. Her family managed to piece together the funds to escape by boat. After a stay in a refugee camp, eventually they found their way to LA. Julie's mom dreamed of some sort of cure for Julie's blindness.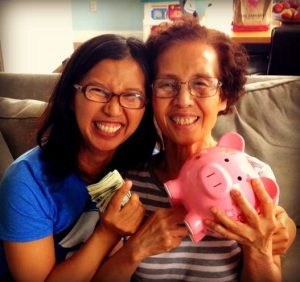 At UCLA, Julie's mom found the cure – surgery that corrected Julie's congenital cataracts. Even with the correction, Julie is considered legally blind. Despite this handicap, she graduated from Williams College and went on to Harvard Law School. Julie excelled at all of it.
Julie developed a love of travel, and has traveled the four corners of the globe alone – Antarctica, China, New Zealand, South Africa and Europe. Julie writes "[t]raveling alone was the single most effective and grueling test I could put myself through emotionally, mentally and physically to prove to myself that I could do as much as anyone else could. . . . It was only when I traveled alone that I was truly open to meeting people and to learning everything they had to teach me about their worldview."
Her intelligence and tenacity paid off as she became a highly successful lawyer, practicing law with one of the world's largest and most prestigious law firms. And before long, she found a life partner and they had two daughters, Mia and Isabelle, now ages five and three.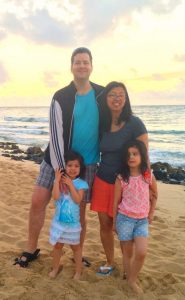 It seemed that she had overcome her vision issues and that health challenges were a thing of the past.
Colon Cancer Diagnosis
In summer 2013, Julie flew from NYC to LA to attend a family wedding with her husband and two daughters. Before the wedding, Julie experienced a sudden, extreme pain. Instead of attending the wedding, Julie found herself in a hospital where they performed a CAT scan and colonoscopy. The tests showed an obstruction in her colon. Julie transferred to UCLA, the place where she'd once had her eye surgery.
There, diagnosed with stage 4 colon cancer at the age of 37, she began the second greatest challenge of her life.
Julie's Fight
Julie resolved to fight colon cancer with all her might. Her fight has been a roller coaster ride of joy and disappointment. She initially endured 24 rounds of chemotherapy and HIPEC surgery to improve her odds of survival. During her treatment, she endured nausea, elevated blood pressure, eyelid twitching and trouble speaking, fatigue, weight gain from the steroids, mouth sores, hair loss, bloody snot, blood in bowel movements and hives.
For a brief two-and-a-half months, she enjoyed a period of no chemo and no evidence of disease.  But that ended in in December 2014, when Julie learned she has about 20 2-4 millimeter spots — also known as nodules — in her lungs.  Devastating news that deemed her now incurable with the expectation that she will inevitably die of her cancer.
Julie is again enduring chemotherapy and the uncertainty of her future. Her recent scans are stable and her oncologist feels the stable scan is a good result. He believes it indicates they are keeping Julie stable while optimizing her quality of life as a "bridge" to something, a drug, a clinical trial – anything that would improve her odds of survival.
Julie's Fight to Find a Cure
Julie declared recently, "I really believe every challenge in your life, is about making you better than who you were before the challenge. Making you smarter, making you more empathetic, making you kinder, making you wiser — making your soul more nuanced and complex and rich."
And Julie is also using this challenge as an opportunity to find a cure for colon cancer.  She has established a research fund in her and her husband's name through a leading colon cancer non-profit, the Chris4Life Colon Cancer Foundation
Today, colon cancer is increasing in people under age 40 at a rate of two to three percent each year. In families genetically disposed to the disease — where multiple generations are diagnosed — it has begun to manifest earlier and earlier.
Although Julie's colon cancer has no known genetic cause, Julie is concerned for her daughters, ages 5 and 3. Her girls face a genetic pre-disposition to colon cancer. The current protocol dictates that they will have to begin screening at age 27, which is 10 years before Julie was diagnosed.
But Julie is fighting to find a cure so that neither they nor any other children will ever have to face this disease.
Learn More About Julie
Read more about Julie, her family and how she copes with this dreadful disease by reading three great articles written by Susan Scutti for Medical Daily
One Story: How Cancer Stage4 is Making Julie Yip-Williams Better, Kinder, Smarter
Advice to Cancer Patients from Julie Yip-Williams: Get Your Doctor to Care and Explore Medical Marijuana and Alternative Medical Treatments
Life in Legacy: Yip-Williams Partners with Chris4Life to Fund A Cure for Colon Cancer
You can follow Julie's fight against colon cancer by subscribing to her blog.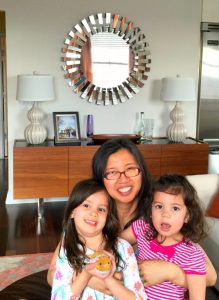 Contribute to Chris4Life
I am dedicating my ride this week to Julie Yip-Willams, who inspires me and those around her with her courage – in fighting colon cancer, sharing the details of that fight and working to find a cure for others, including her daughters Isabelle and Mia.
Please support me in this effort by donating to the Chris4Life organization.
I've built a fund to match contributions made by you and your network during my ride up to $7,000 – so don't miss this chance to help!
Julie has a goal of raising $1 million dedicated to research find a cure for colon cancer – every cent you  can contribute helps – no amount is too small.  100% of all money raised goes directly and only to colon cancer research.
More Information About Chris4Life and Colon Cancer
The mission of Chris4Life is to find a cure for colon cancer by funding and facilitating cutting edge research programs across the nation, to improve the lives of patients diagnosed with colon cancer by funding and developing programs to support patients and their caregivers and to increase awareness of the life-saving importance of early screening for colon cancer by using innovative strategies.
Colon cancer is the second leading cause of cancer-related deaths in the US, killing 50,000 people each year.
Another 1 million people are living with colorectal cancer.
Colorectal cancer is on the rise in people under age 40.
Colorectal cancer research is vastly underfunded, receiving less than half the research dollars of breast cancer.