And just like that, day one  of the bike tour is complete – 78 miles from Florence to Eugene. Plenty of miles to enjoy beautiful scenery and reflect.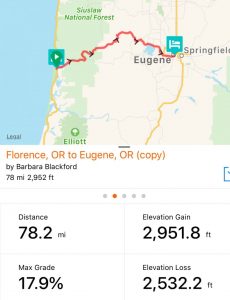 We rode 40 miles east from Florence following the Susilaw River and Lake Creek, which flows into the Susilaw. The river was at times peaceful, wide and placid, and at other times rushing over rocks and boulders. Many of the miles were shaded with coastal redwoods, covered in moss, with an understory of ferns, particularly after we took the more rural, winding State Road 36 away from the coast.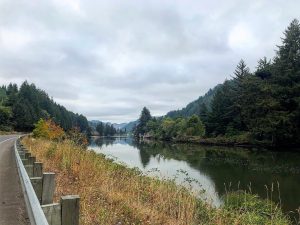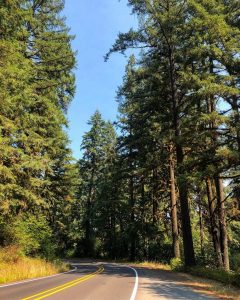 We started the day with a high layer of coastal fog. As we crested the coastal range, the sun came out. We biked through a handful of tiny communities – Deadwood, Triangle Lake and Low Pass – places with a few houses, a convenience store and maybe a post office or cafe. The quiet on State Road 36 for the first 40 miles was lovely. There were several little state parks along the way to stop and explore the rivers and creeks.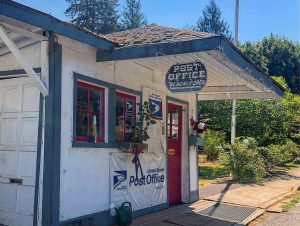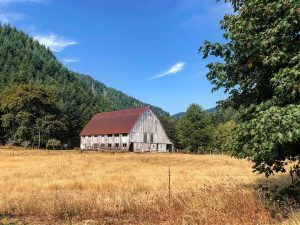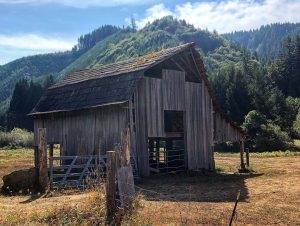 After we crested the first longer climb into the coastal range, the landscape changed to tree farms and rural farmland. The traffic picked up, with some logging trucks and the ever present pick up trucks roaring by. By then, the sun was beating down on us as we rode. As you can imagine, these miles were more challenging mentally.
We capped out along this ride at an elevation of 1022 feet – short in stature, but they were challenge enough.
About 70 miles into the ride, we began riding the bike paths that allowed us to travel from the outskirts of Eugene to our hotel downtown without traffic.
I'm happy to report that I finished! It was my longest ride in almost a year — by 17 miles.
The ride started on the Pacific coast that my brother Mike loved so much. It reminded me of him and I spent a lot of the ride remembering him.  I'll share those memories with you in a coming post, when I have time to do them justice.
So for tonight, I'll sign off, eat dinner and get a good night's rest, for tomorrow we ride 56 miles – all a small uphill grade!