Welcome to week five of my 2,500 mile bike ride I'm calling Cycling for Good. This week I'm riding in honor of Allie Brantley and her quest to find a cure for MS.  You'll learn about Allie and her family, and you'll have a chance to make a difference, too.
 New Member of the Team
In 2004, I was general counsel to Superior Essex, a wire and cable manufacturer that had just emerged from bankruptcy. The company was primarily a US manufacturer in a low margin business. My mission was to build a legal team on a shoestring budget. It was important that every member of the team be smart, pragmatic and flexible, plus have wide-ranging experience and the ability to learn quickly. I recruited an amazing lawyer, and together with a paralegal and a secretary, we were still over our heads with work. We needed another resource.
In October 2004, we began to look for a part-time lawyer who could work more than part-time when needed. Allie Brantley walks in, a dream come true for a legal team in need. She had great experience, high energy and a vivacious, winning personality that would allow her to forge strong relationships and be a trusted counselor in an almost exclusively male management team. As a bonus, her sense of humor and fun loving nature actually made work enjoyable!
Allie was available to work at Superior Essex because she left her law firm when she had triplets. Identical triplet girls – 1 in 8 million odds!
The pregnancy had been hard on Allie. She gained more than 100 pounds, she couldn't breathe and her heart felt like it was going to explode. She convinced her doctors to perform a C-section at 34 weeks. Within four days after their birth, she was in congestive heart failure and was rushed to the emergency room. The pregnancy was so stressful that Allie developed cardio myopathy – a rare autoimmune disease where her body attacks her heart tissue, a complication resulting from the pregnancy.
When I met Allie, all this was in the past – she was fit and happy and the girls were adorable and healthy.
MS Diagnosis
In 2007, Allie was struck by disease for a second time. Allie was 36 and her girls were just starting kindergarten. Her first symptom was numbness in her feet. She thought it was just a reaction to new shoes or a case of plantar fasciitis. But by week two, Allie started experiencing severe vertigo, making it difficult to navigate stairs and impossible to drive. She was unusually tired and her vision became blurry. Allie finally called her doctors when she woke up with double vision. Two MRIs, a physical aptitude test and a very painful spinal tap later, she was officially diagnosed with MS.
I vividly remember the first days of her treatment. My heart ached for Allie.  She was hooked up to a steroid IV in hopes of reducing her symptoms and began taking medicine to slow the progression of the disease. The MS medicine Allie took could only be administered by injection. Every Thursday night, Allie gave herself a shot in the leg with a needle stuck deep in the middle of her thigh. I cringed thinking of getting that injection, much less giving it to myself. Allie dreaded every Thursday; not only was the injection painful, but it gave her flu-like symptoms. The night after her first injection, her body could not regulate its temperature and she shivered uncontrollably for hours, making her exhausted the next day. A night like that would have been debilitating to many people, but not to Allie.  She was determined to fight and win.
Living with MS
Her first order of business was getting her body in the best physical shape possible. She lost the last 35 pounds lingering from her pregnancy and made exercise a priority – walking every day, which eventually turned into running.
Fatigue was the worst symptom she battled daily, so it was important that she get plenty of sleep. She learned to tune into her body and understand what it needed. Her cardiologist and neurologist were concerned when she first began running, but her cardiologist now attributes her improved health to her running.
Two years ago, Allie became one of the first patients to test a new pill treatment, a treatment made possible by research. Her little blue pill eliminated the dreaded weekly shots. In fact, Allie is doing so well, she ran her first marathon – 26.2 miles – in the New York City Marathon in November 2014 to raise funds for MS.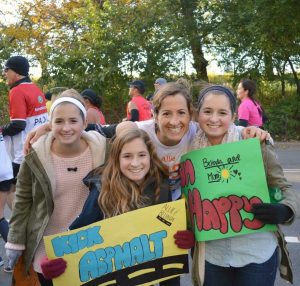 Training was not easy. The heat and humidity in Atlanta took a huge toll on Allie. She gave up most of her social schedule to fit it all in – no more lunches with her "besties" on days off, no more late weekend nights out, no spontaneous shopping sprees, no more late night concerts and no more sleeping in!
She is still an invaluable member of her legal team. Allie has not had a major MS attack in seven years. Her daughters are 13 and doing great. Allie's neurologist tells her a cure is within reach and Allie hopes a cure will be found before her daughters become adults.
Donate to Find a Cure
I am dedicating my ride this week to Allie Brantley, who inspires me and those around her to love life, never give up and do our best for ourselves and those we care about. Support me in this effort by donating to the National Multiple Sclerosis Society.
I've built a fund to match contributions made by you and your network during my ride up to $7,000 – so don't miss this chance to help!
 National MS Society
More than 2.3 million people worldwide suffer from MS. MS is at least two to three times more common in women than in men. Close family members have a 2.5 percent to 5 percent chance of also having MS. It is a disease in which one's immune system attacks the protective sheath (myelin) that covers the nerves. Myelin damage disrupts communication between the brain and the rest of the body. Ultimately, the nerves themselves may deteriorate, a process that's currently irreversible. The National Multiple Sclerosis Society's mission is to mobilize people and resources to drive research for a cure and to address the challenges of everyone affected by MS.