A Magical Ride
Today was one of those almost perfect days – beautiful weather, great scenery, relatively flat cycling and less than 60 miles riding. A day that makes you fall in love with biking all over again.
Sisters Countryside
We left Sisters and travelled on country roads through ranches and farmland with great views of the surrounding mountains.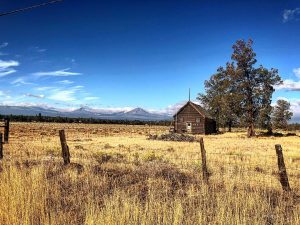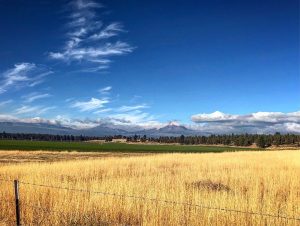 The Deschutes River
Much of the area was formed by ancient lava flows. The landscape is dotted with buttes and rock outcroppings. Passing over the Deschutes river, centuries of erosion make for dramatic views of the river valley. (The Deschutes was French for river of the Falls, in reference to the Falls that once existed where the Deschutes flows into the Columbia River.)
The Deschutes and other rivers and creeks are the source of irrigation for farmland and ranches.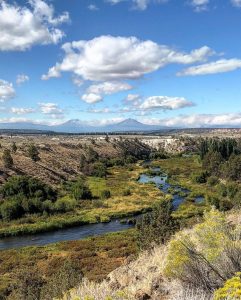 Smith Rock State Park
A little more than midway through the ride, we had the option to detour for a few bonus miles to Smith Rock State Park. Smith Rock is a sports climbing mecca. The top of Smith Rock is more than 600 feet above the Crooked River, which flows through the park and shaped the dramatic scenery.
It was a great day to visit the park – the weather was in the low 70s and the light was picture perfect. A far cry from the mid-90s and blistering sun when Bob and I came through in July!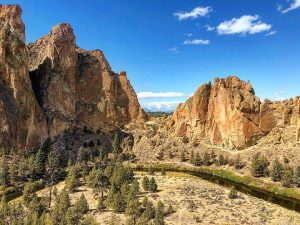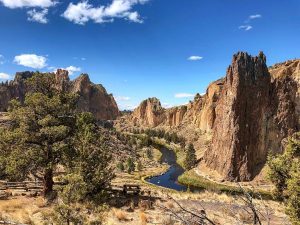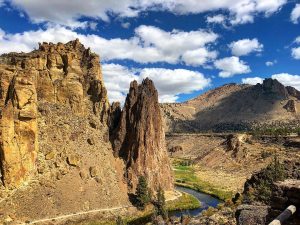 On to Prinevillle
The last 20 miles of the ride were through more farm and ranch land. More local traffic, but still relatively peaceful. Prineville has a population of around 1000. It has become a haven for server farms for the likes of Amazon and Facebook.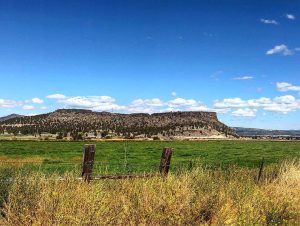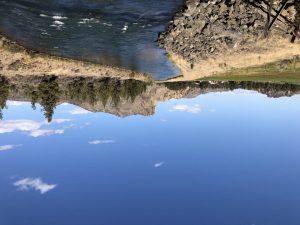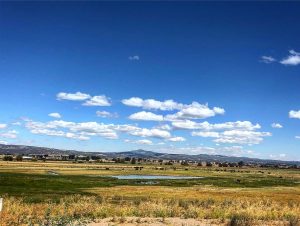 After the ride, I forced myself to run 2 miles. It has been a while since I did a brick workout (bike/run), and I can't say I missed it! 
Whether the run, dehydration or another cause, I'm pretty beat, so hopefully early to bed!