The scenery continues to be consistently amazing – such varied and beautiful environments! But the past few days weren't consistent from a cycling experience – I went from the struggle bus to starting to gain my cycling legs!
Struggle Bus
Tuesday's ride was just under 50 miles from Prineville to Mitchell. I took it really easy early on, but never felt a lot of energy. The first 30 miles were upgrade, gently uphill the last half. Every bit of the hill climbing was a struggle – I didn't feel like my legs had any power. Every pedal stroke was a grind. We then had a lovely descent before hitting chipseal and a slight uphill the last few miles. Ugh. More grinding. I was very happy to see the tiny town of Mitchell!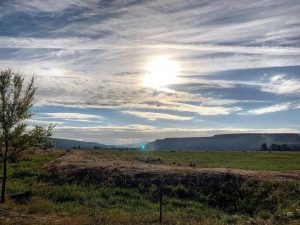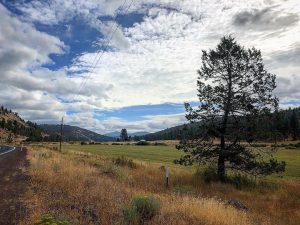 Painted Hills Detour
Mitchell is a town of about 100 people. They claim approximately 10,000 people a year cycle through Mitchell on the Trans Am bike route, and 1000 stay at the local biker hostel. The owner of the hostel offered to take us on his school bus to the Painted Hills. He was a delightful guide! And the scenery was stunning! Don't miss it!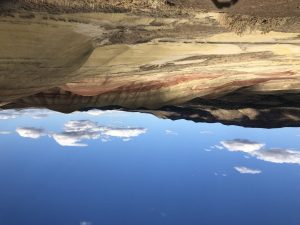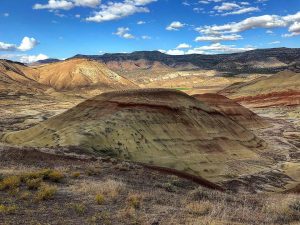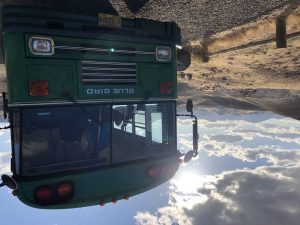 Do I Hear Cycling Legs?
Wednesday's ride was 68 miles from Mitchell to John Day. We turned right out of the hotel, and began a 4-8% grade, six mile climb. HELLO LEGS. After we summitted, we began a long, glorious, gradual descent. Gradual enough to easily spin your legs and pick up speed. I was worried that the climb might blow out my legs, but the gradual decline felt amazing. I was able to push the pace at times and still feel good.
Great scenery and good energy = great day on the bike!
John Day Fossil Beds National Monument area, with its multihued rock walls reaching down to the river, provided drama. That drama gave way to the green and gold hues of agriculture and cattle ranches, with mountains always prominent in the distance. The Dayville Mercantile was a fun rest stop with great hospitality.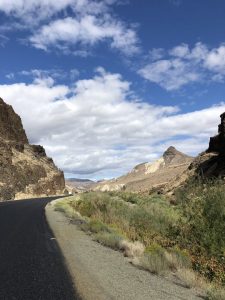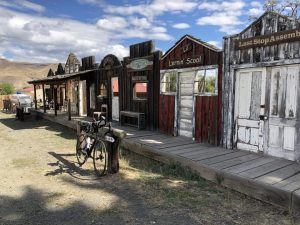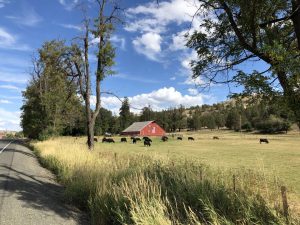 John Day to Baker City
The next ride, from John Day to Baker City is 80 miles, with three climbs of 1000 feet plus, for total elevation gain of 5400. Will I continue to see improvements on a tough day, or will I have to get back on the struggle bus for a bit to get this one done? Stay tuned!