Welcome to week one of my 2,500 mile ride I call Cycling for Good! This week I ride to benefit Canine Assistants.
Each week, I'm riding in honor of someone who inspires me and others to make the world around us a better place. We all have heroes. Mine are my brother James, and my sister-in-law Paula.   This week, I ride in their honor and to raise funds for Canine Assistants.  You can read their story and you'll have a chance to make a difference, too.
The Diagnosis
Paula and I were friends in high school and I loved spending time with Paula and her family. I was so excited when James and Paula began dating. You could feel the love. James and Paula were married the day before I graduated from law school and spent the first day of their honeymoon at my law school graduation.
Six years later, the exciting news came that Paula was expecting a baby! Woohoo! Paula sailed through pregnancy and delivery; their son Kelly was born on April 19, 1988.
Once Kelly was home, however, things got tough. Kelly cried all the time, vomited and got dehydrated. Doctors kept telling James and Paula that Kelly just had a bad case of colic. When Kelly was about three months old, James had grown tired of the "bad case of colic" diagnosis. He demanded the doctors put Kelly in the hospital and find out what was wrong with him.
Kelly was diagnosed with diabetes insipidus, a condition in which the body becomes very dehydrated. During an MRI to help determine the cause and treatment options, doctors discovered that part of Kelly's brain had not developed. Over time, more "conditions" were added such as spastic quadriplegia, cystic fibrosis and a seizure disorder. The neurologist told James and Paula that Kelly would be a "vegetable" and advised that the only course was to institutionalize Kelly.
Apparently, the neurologist didn't know how dedicated James and Paula were to Kelly. They threw themselves into raising and loving Kelly; they went to conferences and they pushed for rights for the disabled. They sent Kelly to a school with a program for children with conditions similar to his. They gave Kelly a normal life.
Kelly Today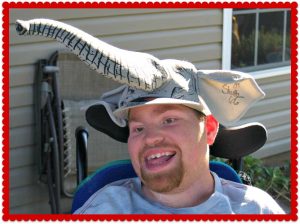 Kelly celebrated his birthday last week and is now 27 years old, 5 feet tall, 125 pounds. He is a big Alabama football fan, like his dad. He loves the hot tub, hanging out in the backyard and his dogs. Paula and James shared a story that sums up what Kelly would say about his life if he could speak:
Please do not feel sorry for me.

I know it's hard not to because I cannot do the things others my age can do. I can not sit up, walk, talk, run or eat, but I can feel. I can feel the breeze on my face and the warmth of the sun. I feel the love that surrounds me, the touch of my daddy's whiskers as he kisses me, my mommy's heartbeat as she rocks me to sleep. I . . . smile when they mention my name because I know they . . . love me.

. . .

I know I cannot put words together, but I do have a lot to say. I say it with my expressions, my body and my eyes. If you pay attention, you can understand what I am trying to say. I may be saying "thank you" or "I love you." Or maybe I am letting you know I'm in pain or am scared. Just like a newborn I have different ways of telling you my needs.

(Here is a link to the full story.)
Canine Assistants – Giving Kelly a Normal Life
Giving Kelly a normal life is not always easy. Kelly needs a regimented schedule for medication and nutrition. Paula or James wake Kelly every morning, change his diaper and use a lift so they can bathe, dress and feed Kelly. The hot tub helps relax Kelly's muscles, so there's another change of clothes and a lift in and out of the hot tub. Finally it's time for lunch, dinner and the whole process in reverse. James and Paula are never away from Kelly for more than a few hours. That means James and Paula have not had a vacation alone together in more than 20 years and traveling with Kelly is tiring, with difficult logistics and less access to valuable tools.
One of the most difficult aspects of giving Kelly a normal life is the unrelenting routine, day after day. Their service dogs from Canine Assistants have lightened the load of this routine for Paula, James and Kelly.
When Kelly was 12 years old, they all made the trek to Atlanta to go to a camp where they learned about training and using these special dogs.  They were  paired with a canine assistant, Taylor.
From the beginning, Taylor bonded closely with Kelly. Taylor alerted James and Paula when Kelly was having a seizure. Taylor positioned herself between strangers and Kelly. Taylor turned lights on and off, opened doors, brought clean clothes for Kelly to change into, took dirty clothes to the hamper, took diapers to the trash and retrieved things that were dropped.
Once, while Paula was sewing and Kelly was on the sofa in another room, Taylor kept whining. Paula didn't respond immediately, and the whining became more insistent. When Paula went into the living room, Kelly was close to rolling off the sofa. Taylor had positioned herself on the floor to break the fall and refused to leave Kelly until Paula could come help. Another time, Kelly was outside when it started to rain. Taylor came into the laundry room and barked at Paula until she went outside and moved Kelly in out of the rain!
Taylor was with Paula, James and Kelly for 10 years. When Taylor died, Canine Assistants provided a new service dog – Reba.
I am dedicating my ride this week to James, Paula and Kelly, who have taught me and those around them about love and sacrifice. Support me in this effort by donating to Canine Assistants.
I've built a fund to match contributions made by you and your network up to $6,000 – so don't miss this chance to help!
Be sure to indicate that your donation is in honor of Kelly to assure the donation is matched.
Canine Assistants
Canine Assistants is a non-profit organization that trains and provides service dogs to enhance and improve the lives of children and adults who have physical disabilities, seizure conditions or other special needs. Canine Assistants covers the medical, food and training costs for the life of every dog placed – on average more than $20,000 over the life of a dog.