Imagine. You are an athletic, fun loving 21 year old college student. Blackbelt in Karate at age 16. Surfer, swimmer, skier. There is nothing you can't do – you feel invincible – on top of the world! You wake up one beautiful, sunny California morning and hop on your motorcycle to enjoy the wind in your face, lean your bike into the curves and feel the speed.
The next thing you remember is waking for a minute in a sterile, white room. After spending a month in a coma, over the course of days and weeks, you learn you were hit head-on by a large garbage truck. Almost every bone in your body broken.
Youth and invincibility replaced in a moment by unimaginable pain and despair. And ultimately loss of a leg.
That was Tim Hurst in 1981. This coming weekend, at age 56, Tim is running his 46th marathon in 43 states, on his quest to finish a marathon in all 50 states after turning 50.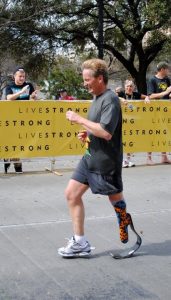 Learn more about Tim's story.
Facing Devastating Injuries
At first, Tim thought it was a dream. Three months and nine surgeries after entering the hospital, Tim woke up and asked, "Is it Wednesday?" His mom said, "No, it's August."
Tim had multiple fractures in his hips, arms, legs, ribs and face, and dislocated his leg from the hip.  His teeth were broken. His spinal cord was deeply bruised.  He was in a full body cast.
After a year in and out of the hospital , Tim went home in a wheelchair, unable to move his legs. As he watched his insurance run out, his fiancee call off their engagement and his parents divorce.
Then, one happy day, something good happened: he felt his big toe move. For months he willed his legs back to life, his right one anyway. The mobility improved inches at a time.
But his lower left leg was crushed and could not be saved. Tim was forced to decide to have the leg amputated.
Recovering and the New Normal
With no health insurance, Tim taught himself how to move again. He began strength training, riding a stationary bike and eventually walking and running a bit. It was hard. It was painful. But Tim persisted, and he improved.
Tim had some dreams that helped motivate him – a bucket list — things he wanted to do when he could walk again. On that bucket list – to run a marathon. But with a clunky, wooden prosthesis, running a marathon was far from a realistic possibility.
Life started to return to "normal." Tim developed a career as a computer technician. He married and had children. Divorced and remarried. He continued to practice karate.
New Possibilities
While in his late 40s, on a drive home from work, Tim saw a billboard for a new prosthesis – known as the blade. Tim didn't lose any time learning about this new prosthesis. Soon enough, he had his own.
And running became much easier. Each week, he ran a little further. 4 miles. 5 miles. 8 miles! It was going so well, Tim decided to run a half marathon – 13.1 miles. It was the longest run of his life and hardest thing he had ever done. But he was hooked, and was off and running a half dozen marathons in less than a year.
Tim decided it was finally time to do what he had long dreamed of – to run a marathon. His hometown marathon, the Salt Lake Marathon. Along the way, Tim had plenty of doubts. And plenty of people told him he couldn't (or shouldn't) run a full marathon. Even Tim considered dropping back to the half marathon instead.
But a friend nominated him for an award to the most inspiring marathon runner, which came with a $5,000 prize. That prize would allow Tim to upgrade his basement karate studio to make it a top notch facility to teach kids. And he was one of a few finalists for the prize. There would be no going back.
So nerves aside, Tim toed the line for his first marathon at age 50. At mile 15, he hit the wall and almost quit. But six hours and thirty minutes after he started, Tim finished a marathon! And won that prize for the most inspiring runner in the Salt Lake Marathon!
A Change of Purpose
Tim ran that first marathon to prove to himself he could do it – that even with one leg and all the challenges life had thrown at him, he could still make his dreams come true.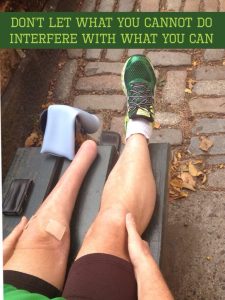 But a young boy gave Tim a new reason to run  marathons. A young boy walking with his mom started pointing to Tim and telling his mom with astonishment that Tim was a one-legged man running! The boy's mom was embarrassed and apologized, but Tim told her not to be – Tim was glad her son learned that a disability shouldn't hold anyone back. In that moment, Tim realized that running marathons gave him a chance to teach, inspire and motivate.
And his purpose for running became about showing everyone he comes in contact with that there is nothing THEY can't do. When people told Tim he couldn't or shouldn't run a marathon, he didn't listen. And he doesn't think you should listen to them either.
"You may not be able to do everything but you can do something. Find it. Do it and you will find you are stronger than you know."
His 50 State Quest
When running one of his first marathons, Tim was encouraged by a runner he met to set a goal of running a marathon in all 50 states. That runner was Larry Macon, a 70 year old lawyer from Texas, who has run over 1500 marathons, and set a record for running 239 marathons in a year at age 69.
And that encouragement was all that Tim needed. This weekend, six years after running his first, Tim will run a marathon in his 43rd state at the Publix Georgia Marathon, right here  in my home town of Atlanta.
He plans to finish his 50 state quest next January – where else? At Disney World in Florida!
You can help Tim complete his quest by donating to provide funds to help defray travel and other costs of running the remaining races.
Tim also  encourages  donations to Achilles International.  The mission of Achilles International is to enable people with all types of disabilities to participate in mainstream athletics.
You can track Tim's running adventures by following his blog, Running on my Last Leg.